Doctor Strange in The Multiverse o Madness - The Loop
Play Sound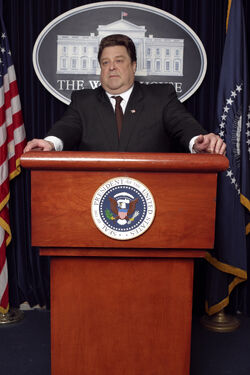 The title of Acting President of the United States is a specific title under the Twenty-fifth amendment to the Constitution in case of temporary incapacitation of the President of the United States.
Since John Hoynes resigned the Vice Presidency, the Speaker was next in line. Speaker Glen Allen Walken (R- MO) served in the position for two days in 2003 when President Josiah Bartlet invoked the 25th amendment after his daughter Zoey Bartlet had been kidnapped. (7A WF 83429, The Dogs of War)
In reality, only two people, George H.W. Bush and Dick Cheney, have served as Acting President under the 25th Amdenment. Dick Cheney assumed the role of the Presidency while President George Bush was placed under anesthesia during a routine colonoscopy. George H.W. Bush served for about eight hours while President Ronald Reagan had polyps removed from his colon.
Notes and references