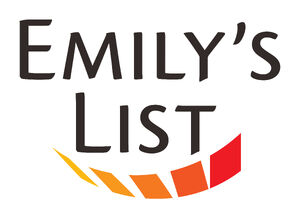 Emily's List is a Democratic organization that helps viable women get elected to Congress. Their mission, as quoted from their website:
"EMILY's List members are dedicated to building a progressive America by electing pro-choice Democratic women to office. We believe in the power of women as candidates, as contributors, as campaign professionals, and as voters to bring about great change in our country.
When women are involved in the political process, our democracy is truly representative. When women make policy, the needs of women and families are not ignored. When women vote, Democrats — who share our values and priorities — win.
EMILY's List is committed to a three-pronged strategy to elect pro-choice Democratic women: recruiting and funding viable women candidates; helping them build and run effective campaign organizations; and mobilizing women voters to help elect progressive candidates across the nation.
EMILY's List will win today and build for tomorrow. Our immediate focus is to win elections to turn back the Bush Republicans and their right-wing agenda. At the same time, we are making a long-term investment in women to develop their political skills and cultivate resources so that we can bring more women into politics and elected office. Only then can we build a progressive majority and construct a society built around equal opportunity for all, civil rights, diversity, and compassion.
By working together, we can make a difference — and change the face of American politics."
Community content is available under
CC-BY-SA
unless otherwise noted.