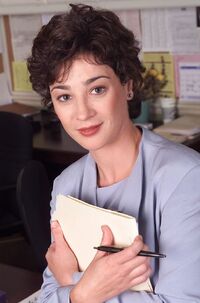 Any secondary character on The West Wing that stops appearing on the show without explanation is said to be in Mandyville. The term was coined based on the abrupt departure of the character Mandy Hampton, played by Moira Kelly, at the end of the show's first season.
Examples
Mandy Hampton - the White House's media relations adviser and a main character in Season 1. Although initially an integral part of the senior staff, Mandy's storylines became progressively distracting and silly (an example being her insistence that the White House try to replace one of the National Zoo's Chinese pandas who had recently died), and her character appeared to have been summarily dispensed with by Season 2. A justification given for her departure was the fact that President Bartlet was becoming more of a central character in the series, and it is unlikely a media relations adviser would be given senior access.
See also
Community content is available under
CC-BY-SA
unless otherwise noted.