Doctor Strange in The Multiverse o Madness - The Loop
Play Sound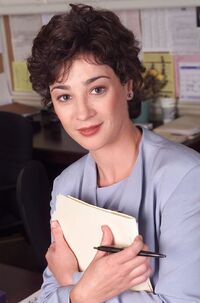 Any secondary character on The West Wing that stops appearing on the show without explanation is said to be in Mandyville. The term was coined based on the abrupt departure of the character Mandy Hampton, played by Moira Kelly, at the end of the show's first season.
Examples
Mandy Hampton - the White House's media relations adviser and a main character in Season 1. Although initially an integral part of the senior staff, Mandy's storylines became progressively distracting and silly (an example being her insistence that the White House try to replace one of the National Zoo's Chinese pandas who had recently died), and her character appeared to have been summarily dispensed with by Season 2. A justification given for her departure was the fact that President Bartlet was becoming more of a central character in the series, and it is unlikely a media relations adviser would be given senior access.
Gina Toscano - a secret service agent played by Jorja Fox assigned to Zoey Bartlet's security detail who identifies the shooters and signaler in Rosslyn. Toscano was a recurring character in Season 1 and was planned to recur in Season 2, even appearing in the season premiere In the Shadow of Two Gunmen (Part I). Fox signed a contract to appear on the CBS crime drama CSI: Crime Scene Investigation with the expectation that the show would not be success and she would return to The West Wing once she was finished shooting. Instead, CSI launched a franchise spanning two decades, with Fox staying on and ultimately never returned to The West Wing.
Ainsley Hayes - a conservative commentator (played by Emily Procter) who is hired by the White House to bring in alternative points of view. Though the idea to make her associate (later deputy) White House counsel came directly from President Bartlet, senior staff are less than pleased when they learn about it -- particularly Sam, who later becomes one of Ainsley's best friends in the West Wing. Ainsley made appearances mostly during seasons 2 and 3, though she returns briefly in Season 7 to lobby for the job of White House Counsel in the new Santos Administration. Ainsley's disappearance was due to Emily Procter being cast as Calleigh Duquesne on CSI: Miami in 2002. Aaron Sorkin lists his decision to not make Ainsley a regular character as his biggest regret from his time in charge of the show.
Elsie Snuffin - step-sister of Will Bailey, who worked closely with him throughout Season 4 but then disappeared. Will never mentioned her again.
Sam Seaborn - Inexplicably never returns from a congressional campaign in California, which he presumably lost (though he does return in Season 7 to take a job as President Santos' deputy chief of staff).
Nancy McNally - Bartlet's national security adviser in seasons 2-4, portrayed by Anna Deavere Smith. She appears frequently in storylines involving foreign policy and/or international incidents, but very little is revealed about McNally's character on a personal level, and she has few personal connections with other characters (although she seems to share a wry rapport with Chairman Fitzwallace). Near the end of Season 4, she introduces Kate Harper as her new deputy, and is rarely mentioned again for the rest of the series, with Kate co-opting her previous role. McNally only appears once near the beginning of Season 5, before being appointed as Santos' ambassador to the UN near the end of the series.
See also