Ramón Gerardo Antonio Estévez, better known as Martin Sheen, played President Josiah Bartlet on The West Wing.
Early life
Edit
Martin Sheen was born in Dayton, Ohio. He lived on Brown Street in the South Park neighborhood and was one of 10 siblings (9 boys and one girl). He attended Chaminade High School. He is a devout Roman Catholic, born to a Spanish-born father, Francisco Estévez (who was born in Parderrubias, Galiza, Spain near the border of Portugal), and an Irish mother, Mary Anne Phelan. Phelan, from County Tipperary, fled Ireland during the Irish War of Independence due to her family's Old IRA connections. Sheen adopted his stage name in honor of Catholic archbishop and theologian Fulton J. Sheen.
Sheen had wanted to act since he was very young, but his father disapproved. He claims he deliberately flunked the entrance exam for the University of Dayton so that he could pursue his goal. (He has, however, credited the Marianists at that university as a major influence on his public activism.) Sheen borrowed money from a priest and headed to New York City while enduring the struggling actor route. He developed a theater company with other actors in hopes that a production would earn him notice. His first major role was on Broadway, in The Subject Was Roses, which he recreated in the 1968 film of the same name. He did not receive another important part until 1973, when he starred with Sissy Spacek in the crime drama Badlands.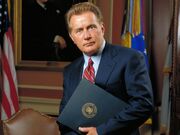 In 1974, Sheen received an Emmy Award nomination for Best Actor in a television drama for his portrayal of Pvt. Eddie Slovik in the made-for-television film, The Execution of Private Slovik. The film told the World War II story of the only American soldier to be executed for desertion since the American civil war. It was his performance in this film that ultimately led to Francis Ford Coppola choosing him for a starring role in 1979's Apocalypse Now which gained him wide recognition. On the set of Apocalypse Now, Sheen admitted that he wasn't in the greatest shape and was drinking heavily. On location Sheen had a heart attack and crawled out to a road for help.
Sheen married art student Janet Templeton in 1961, and they have four children, 3 boys, and a girl, all of whom act:
Charlie Sheen
Emilio Estevez
Ramón Luis Estevez
Sheen has a star on the Hollywood Walk of Fame, at 1500 Vine Street.
He has said that he was greatly influenced by the actor James Dean.
Sheen recently announced his plans to return to education. "My plan is to read English literature, philosophy, and theology in Galway, Ireland, where my late mother came from and where I'm also a citizen", he said. [1] Speaking after an honorary arts doctorate was conferred on him by the National University of Ireland, Sheen joked that he will be the "oldest undergraduate" at the National University of Ireland, Galway when he starts his full-time studies there in the Autumn of 2006. Despite expressing the concern that he might be a "distraction" to other students at NUIG, he will be attending lectures like everyone else. Speaking the week after filming his last episode of the West Wing he said: "I'm very serious about it." He once said "I never went to college when I was young and am looking forward to giving it a try." and went on to say "at age 65!".[2]
Martin Sheen has also said in many interviews that his best film is Badlands.
Sheen received six Emmy nominations for Outstanding Lead Actor in a Drama Series for his performance on "The West Wing," for which he won a Golden Globe for Best Performance by an Actor in TV-Drama, as well as two SAG Awards for Outstanding Performance by a Male Actor in a Drama Series, and was part of the cast that received two SAG Awards for Outstanding Performance by an Ensemble in a Drama Series.
Sheen has also done voiceovers as the narrator for the Eyewitness Movie series, as well as the voice of the Illusive Man in Bioware's Mass Effect series.
References
Edit