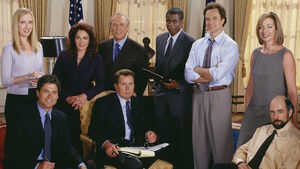 Season 1
of The West Wing began on
September 22
,
1999
on
NBC
. It was created by
Aaron Sorkin
and executive produced by Sorkin,
Thomas Schlamme
and
John Wells
.
The show was a popular and critical hit, finishing 27th overall in viewers and winning nine Emmy awards. The season was released on DVD on November 18, 2003.
Summary
A year and a half into his first term, President Josiah Bartlet is finding himself stalled. His staff is restless, unable to pass legislation on the hill. To make matters worse, his Deputy Chief of Staff Josh Lyman has just insulted the Religious Right on a national television program. As Bartlet and his staff work together to pass legislation through back channels and dealmaking, Bartlet decides to finally make a stand and attempts to get Roberto Mendoza appointed to The Supreme Court.
While Bartlet is able to get Mendoza on the bench, he still finds himself stuck in neutral until a rousing speech from White House Chief of Staff Leo McGarry gets Bartlet to focus on the issues instead of re-election. A few short weeks later, as President Bartlett is leaving a successful speech, shots are fired on him and his staff, with the Secret Service wondering who had been shot.
Episodes
Cast
Main cast
Recurring Cast
Community content is available under
CC-BY-SA
unless otherwise noted.