Doctor Strange in The Multiverse o Madness - The Loop
Play Sound
This is a timeline of the events of The West Wing.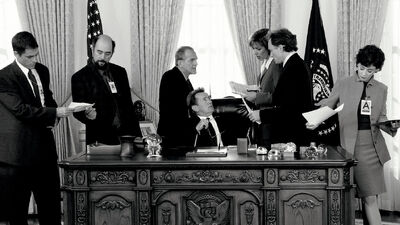 Before the show
Because the writers did not map out a historical backstory for the show, there is no definite timeline that can be created. Often times due to production oversight, there are contradictions and plot holes. Many people over the years have used scraps of information scattered throughout the series to create their own backstories between the resignation of Richard Nixon and the election of Jed Bartlet. There are presumably several fictional Presidents after Nixon, but most have never been mentioned in the show. Only two former presidents are revealed: D. Wire Newman, a one-term Democrat, and Owen Lassiter, a two-term Republican. Newman and Lassiter were designed similarly to real-life presidents Jimmy Carter and Ronald Reagan, respectively. The placements of their presidencies are ambiguous, but there are hints. Newman used the same Air Force One plane as Bartlet, indicating a presidency during the late '80s. Lassiter and his staff members are all very elderly in 2004, so his presidency could be placed in the late '70s or early '80s.
Timeline
YEAR
DATE
INFO
EPISODE(S)
1966
September
Operation Rolling Thunder; Leo hits a target that's supposed to be a bridge. In reality it's a dam with 11 civilian casualties. Leo is informed of this by General Alan Adamley in October 2001.
War Crimes
1969
(app.)
n/a
Leo and Bartlet meet for the first time
Bartlet for America
1990
Bartlet and Leo begin a friendship.
Bartlet for America
November 6
1990 Presidential Election
Josiah Bartlet is elected Governor of New Hampshire.
In the Shadow of Two Gunmen (Part I)
John Hoynes is elected to the Senate from Texas.
20 Hours in L.A.
1991
January 20
Presidential inauguration
Leo McGarry begins serving as Secretary of Labor.
January-February 1991
Gulf War: US forces liberate Iraqi-occupied Kuwait, including Army General Ed Barrie and Marine Corps pilot Matt Santos
1992
1993
June
Leo McGarry admits himself into rehab to treat his addictions to alcohol and valium.
He Shall, from Time to Time...
1994
Josiah Bartlet is diagnosed with Multiple Sclerosis.
Bartlet for America
November 8
1994 Presidential Election
1995
January 20
Presidential inauguration
Leo McGarry, while drunk, encounters Kate Harper in Florida. He later forgets this event.
Ninety Miles Away
Leo McGarry's term as Labor Secretary ends.
1996
November 5
1996 Midterm elections. The Democratic Party loses control of the House of Representatives.
Requiem
1997
October
• Leo visits Josh and asks him to come to Nashua.
• On his way there, Josh stops by Gage Whitney in New York to see his friend, Sam.
• Josiah Bartlet speaks at a campaign event in Nashua, NH. Toby Ziegler thinks he's getting fired from the campaign. He and Jed Bartlet haven't known each other that long.
• Josh, Sam and C.J. join the Bartlet for America (1998) campaign
In the Shadow of Two Gunmen (Part I)
November
Leo asks Josiah Bartlet to run for President[1]
Bartlet for America
1998
Summer
• Bartlet wins the Illinois primary.
• Josh Lyman's father dies.
In the Shadow of Two Gunmen (Part II)
• Democratic National Convention
• Bartlet asks John Hoynes to be his running mate.
Bartlet for America
October 30
Leo meets with three possible investors, CEOs, for the last stretch of the campaign, as the election is too close to call. Leo relapses and drinks. Only Josh and the President know about it.
Bartlet for America
November 3
• 1998 Presidential Election
• Josiah Bartlet is elected President of the United States
1999
January 15
Cornell Rooker becomes the nominee for United States Attorney General. Andy and Toby are married and trying to have a baby.
Debate Camp
January 20
Josiah Bartlet is sworn in as President of the United States
Debate Camp
January 22
C.J. learns that Rooker is for racial profiling. The President learns that he can select historic art to loan for the White House and that there's a door from Leo's office to the Oval Office.
Debate Camp
February 2
Donna plays an elaborate prank on Josh to get him back for 'Bambiesque', making him think the NSA is investigating her.
Debate Camp
June
Charlie's mother is shot and killed in the line of duty.
The Midterms
August
President Bartlet rides his bicycle into a tree.
Pilot
October
Charlie applies for a messenger job and is hired as Personal Aide to the President of the United States.
A Proportional Response
December
President Bartlet nominates Roberto Mendoza to the Supreme Court.
The Short List
2000
March
Josh tells Mandy that he's been working at the White House for 14 months
Let Bartlet Be Bartlet
August 7
• Rosslyn, Virginia shooting
What Kind of Day Has It Been?
August 14
• It's been 1 week since the shooting, meaning it's Monday and the shooting took place August 7, 2000.
• 12 weeks until the midterm elections
• Charlie and Zoey have been dating for 9 months
The Midterms
November 7
2000 Midterm elections
December 19
Yo-Yo Ma plays at the Congressional Christmas party. Josh's anxiety culminates and he breaks a window in his apartment.
Noël
2001
April
• Hoynes gives remarks distancing himself from Big Oil; Toby is confused by Hoynes intentions and spends a week figuring out that Hoynes doesn't think the President is running again. The President tells Toby the truth, about having Multiple Sclerosis
• C.J.'s father turns 70
The Stackhouse Filibuster • 17 People
Mid-May
Mrs. Landingham is killed by a drunk driver. The President reveals that he suffers from Multiple Sclerosis and that he is running for re-election.
18th and Potomac • Two Cathedrals
Mid-June
C.J. is considering resigning; Leo has brought in Bruno Gianelli, who brought in his associates Connie Tate and Doug Wegland to help with the re-election campaign.
Manchester (Part I)
October 4
Cliff and Donna go on a date
Ways and Means • War Crimes
October 5
Cliff and Donna spend the night together; the next morning, Cliff sees Donna's diary
War Crimes
October
C.J. mentions in her briefing that it's the President's first veto since taking office 33 months prior
On the Day Before
December 23
Leo goes in for his first testimony with Congress.
Bartlet for America
2002
Before January 5
Leo and Jordon meet with Cliff Calley, who offers to end the hearings if the President agrees to Congressional Censure, by which Leo is appalled. 2 days later, the President agrees to the Censure.
H.Con - 172
Mid-January
The State of the Union
100,000 Airplanes
May 1
C.J. Cregg is assigned Secret Service protection after receiving death threats.
Enemies Foreign and Domestic
May 22
• Simon Donovan is shot and killed during an armed robbery.
• Abdul Shareef is assassinated in Bermuda.
Posse Comitatus
Summer
• Republican National Convention
• Democratic National Convention
September
An explosion kills 44 people at Kennison State University
20 Hours in America (Part II)
October 23
2002 United States Presidential Debate in San Diego, CA
Game On
November 5
• 2002 Presidential election
• Josiah Bartlet is re-elected President of the United States
Election Night
2003
January 20
Second Inauguration of Josiah Bartlet
Inauguration
May 2
John Hoynes resigns as Vice President after it is revealed that he had been having an affair.
Life On Mars
May 7
• Huck and Molly Ziegler are born.
• Zoey Bartlet is kidnapped on the night of her graduation from Georgetown.
• Josiah Bartlet invokes the 25th amendment, Glen Allen Walken becomes Acting President.
Commencement • Twenty-Five
May 10
• Zoey Bartlet is rescued and reunited with her family.
• Josiah Bartlet resumes the duties of the presidency.
The Dogs of War
July
Robert Russell becomes the new Vice President of the United States.
Han
2004
January
Death of former president Owen Lassiter
The Stormy Present
March
President Bartlet nominates Evelyn Baker Lang and Christopher Mulready to the Supreme Court.
The Supremes
November
2004 midterm elections
Sometime between Slow News Day (referenced to be upcoming) and Liftoff (referenced as having taken place "last year")
2005
May
An explosion in the Gaza Strip kills Percy Fitzwallace and seriously injures Donna Moss.
Gaza
June
• President Bartlet holds an Israeli-Palestinian peace summit at Camp David.
• Leo McGarry has a heart attack.
NSF Thurmont • The Birnam Wood
December
• Arnold Vinick announces that he is running for president.
• President Bartlet is paralyzed by an MS attack on the way to a summit in China.
In The Room
Matthew Santos announces that he is running for president.
Faith Based Initiative
2006
March 7
Matthew Santos wins the California primary on Super Tuesday.
La Palabra
July
• Arnold Vinick secures the Republican nomination.
In God We Trust
• Republican National Convention
• The International Space Station begins losing oxygen.
Things Fall Apart
July 21 - 24
Democratic National Convention
2162 Votes
July 24
Matthew Santos becomes the Democratic nominee for president. Leo McGarry is nominated for Vice President.
October
• The San Andreo nuclear power plant in California nearly melts down.
Duck and Cover
November 7
• 2006 United States Presidential Election
• Leo McGarry dies of a heart attack.
• Matthew Santos is elected President of the United States.
Election Day (Part II)
November/December
• Josh Lyman asks Sam Seaborn to become Deputy Chief of Staff.
• President-elect Santos decides to choose Eric Baker for Vice President, and Arnold Vinick for Secretary of State.
Transition • The Last Hurrah
2007
January 20
• Inauguration of Matthew Santos.
• Former president Bartlet returns to New Hampshire.
Tomorrow
2008
November 4
• 2008 Midterm elections.
• Will Bailey is elected to Congress from Oregon.
The Ticket
2009
Opening of the Josiah Bartlet Presidential Library in New Hampshire.
The Ticket
Gap theories
As Richard Nixon is the last President to be referred to in the show, the most popular timeline is that President Nixon resigned before he appointed Gerald Ford as his new VP or that his VP nominee was not confirmed by the Senate, therefore, there was no Vice President to assume the presidency. The theory goes on to say that the Speaker of the House (Carl Albert at the time) took office while the country decided to hold a special election to elect a new President rather than have the Speaker finish off Nixon's term. It is established in the West Wing universe that the Watergate scandal occured.[2]
This means that a Presidential election was held in November of 1974, and the winner was sworn-in on January 20, 1975, less than two years after Nixon resigned from office. This resets the election cycle every four years, with elections in 1978, 1982, 1986, 1990, 1994, 1998, 2002, and 2006 in the show (midterm years in real-life).
Known Facts
The following facts can be proven by information in the show.
Real-time vs. "West Wing"
While many historical events are mentioned throughout the show, we find that the show itself does not follow the real-life timeline. Bartlet was elected in 1998, 2 years prior to the election of George W. Bush. The show ends with the election victory of Matt Santos in 2006, 2 years prior to the election of Barack Obama. The creators of the show left the timeline ambiguous in order to separate it from real-life, and to create their own alternate universe. In the series, no president after Richard Nixon exists in real-life. There are overlaps, as many policies implemented throughout the '70s and '80s exist in the show, but the presidents who created them do not.
References