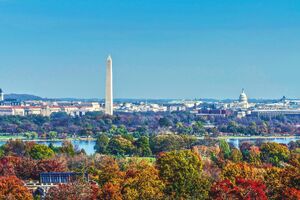 Washington, D.C., also known as the District of Columbia, Washington, or simply DC, is the capital of the United States. It is located along the Potomac River, on land donated by the state of Maryland that also borders Virginia. It is under the exclusive jurisdiction of the United States Congress and not part of any state.
Washington is home to the centers of all three branches of government - the White House, Congress, and the Supreme Court, along with many important monuments and museums, which are primarily situated around the National Mall. It is the home of the President, the First Lady, and the entire White House senior staff, and is the main setting for The West Wing.
History
The existence of a national capital, outside of the control of any state, is provided for in the Constitution. In the Compromise of 1790, Alexander Hamilton, James Madison, and Thomas Jefferson agreed to establish the capital in the South, in exchange for the creation of the first national debt. George Washington chose the location of the new capital, a square 10 miles on each side, along the Potomac River. The location already contained two thriving port cities, Georgetown and Alexandria, and the land was donated by the states of Maryland and Virginia. Initially, the district contained three different cities - Washington, Georgetown, and Alexandria - which were organized into two counties. Later, the land south of the Potomac was retroceded to Virginia, and Georgetown was annexed by Washington. Today, the city of Washington is coterminous with the District of Columbia.
The District played a key role in the Civil War and the Civil Rights Movement. The Lincoln Memorial was the site of the 1963 March on Washington, where Martin Luther King, Jr., gave his famous "I Have a Dream" speech.
Important locations
Government locations
Monuments and landmarks
The National Mall
The Lincoln Memorial
The Washington Monument
The Jefferson Memorial
The Vietnam Veterans Memorial

Arlington National Cemetery

, while not located in Washington, is right across the Potomac River, adjacent to the National Mall
Culture
The

Smithsonian

museums
The National Gallery of Art
The Kennedy Center for the Performing Arts
Other locations
"Southeast DC" (which most likely refers to the real-life neighborhood of Anacostia) is the home of Charlie Young
Georgetown, an upper-class neighborhood that is home to Josh Lyman and probably other characters
Georgetown University, where Zoey Bartlet is a student
George Washington University
A number of shops, restaurants, bars, cafes, schools, and parks
External links