❝ In a triumph of the middling, a nod to mediocrity, and with gorge rising... ❞

—

TOBY ZIEGLER

---

This article is in need of improvement! Help The West Wing Wiki by adding to it, evaluating the content and layout. If you need more information don't hesitate to ask an admin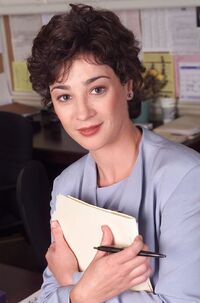 The White House Media Director, also referred to as a media consultant, was a position at the White House from 1999 to 2000 occupied by Mandy Hampton.
About
The media director reported to both the Deputy White House Chief of Staff and the Communications Director.[1]
The job was unoccupied prior to August 1999.[2]
Mandy Hampton was asked to fill this position after several media mistakes were made by the White House.[3]
The office was presumably vacant after Mandy seemingly left in 2000. It's possible that the position of Deputy White House Press Secretary for Media Relations was somehow connected.
See also
Notes and references
Community content is available under
CC-BY-SA
unless otherwise noted.