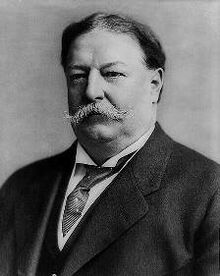 William Howard Taft was President of the United States during the early 20th century. He was noted for his immense weight.[1]
The town of Hartsfield's Landing first predicted the winner of the United States presidential election during Taft's presidential run.[2]
As President, Taft was heavily involved in the growing sport of baseball. He was the founder of the seventh inning stretch.[3] In 1910, Taft was the first President to throw out the first pitch at a Washington Senators game.[4]
Notes
Community content is available under
CC-BY-SA
unless otherwise noted.